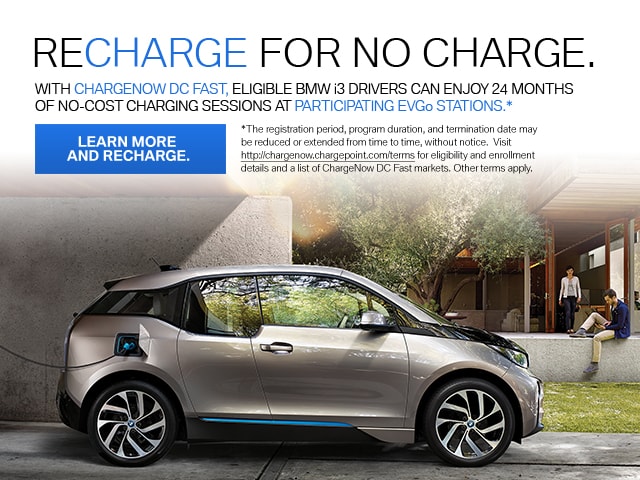 Special Incentives Now Available for Certified Pre-Owned BMW i3 Models
1.99% APR for 24 months available**
Special Additional Program:
Additional $1,000 Corporate G Credit available from BMW FS to customers that work for specific BMW partner companies.+
*Must finance through BMW Financial Services.  **With a down payment acceptable to lender, 24 monthly payments of $42.54 per $1,000 financed at 1.99% APR, on approved credit. +See Dealer for Program details. Expires 4/30/2019
---
Purchase or Lease a New or Certified Pre-Owned i3 vehicle and receive 24 months of free access to EVgo charging points (30 minute DC sessions or 1 hour AC Level 2 sessions).
· For DC Fast-capable BMW i3 vehicles
· For BMW i3 vehicles that are not DC Fast capable
 
If the driver has already purchased an i3 CPO and needs a ChargeNow card, then they can visit the website at (
www.chargenowusa.com
) and it will prompt them to contact EVgo at 877-505-5581 or email
ChargeNowEVgo@EVgo.com
, to request a complimentary card.
ChargeNow DC Fast5: Eligible BMW i3 drivers can recharge for no charge.
Offered by BMW in cooperation with EVgo, ChargeNow DC Fast allows eligible BMW i3 drivers in participating markets to enjoy 24 months of no cost charging sessions at participating EVgo Stations. Enrolled BMW i3 customers can use the ChargeNow card for unlimited 30 minute, DC Fast Combo charging sessions and Unlimited 1 hour, Level 2 charging sessions.
The BMW i3 is equipped with the future-proof 50 kW direct current (DC) Fast charging technology. When the BMW i3 (94 Ah) is connected to a DC Fast charging station, the battery cells are charged up to 80 percent of their capacity in less than 40 minutes. In the BMW i3 (60 Ah) this takes approximately 25 minutes.
Who is eligible?
*Eligible BMW i3 owners in ChargeNow DC Fast markets must purchase or lease a Model Year 2015 or later BMW i3 vehicle on or after November 1, 2015, from a BMW i Center. Fleet customers not eligible. Program participation extends for 24 months from date of enrollment at chargenow.com/us, which must occur on or before December 31, 2018. Both the registration period and the termination date may be reduced or extended from time to time, without notice. Other terms apply.